Residential Sprinkler Evaluation Program
Thank you for your interest in Tarrant Regional Water District's Residential Sprinkler System Evaluation Program (RSSEP).  
Outdoor water use can add up to 50% or more of the water we use during the summer. Improving sprinkler system efficiency can minimize waste and build a healthy landscape.
The evaluation program provides a comprehensive look at your sprinkler system including components, controller, and current watering schedule. This free residential program provides a valuable, detailed report with recommended changes to help increase efficiency and reduce water waste.
Click HERE to sign-up. Once your request is submitted a representative from M&M Irrigation and Illumination will contact you to schedule an evaluation date and time convenient for you.
Free for Tarrant County Residents. The program does require somebody be present during the evaluation. 
Some things to know before your free sprinkler evaluation appointment:
The licensed irrigator will walk through each zone with you present.
The licensed irrigator will not try to sell you any services or parts.
Make sure you know where your irrigation controller is.
Make sure your irrigation controller is accessible.
Make sure your sprinkler system is working (it comes on).
An adult must be home to participate in the evaluation.
Additional safety precautions are being observed by our irrigators due to Covid risk.
Please wear a mask during your evaluation.
You will get a confirmation from the irrigation company a few days before your appointment.
If you have to cancel, please do so at least 24 hours before your evaluation is scheduled.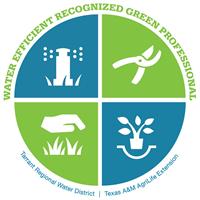 If Repairs are Recommended
to get the most out of your sprinkler system, please consider using a recognized Green Professional from TRWD's Green Pros Program. Visit the Green Pros page for more information and to see the list of professionals in your area.