DIY Rainwater Harvesting – Hurst
April 15 @ 10:00 am

-

12:00 pm

$45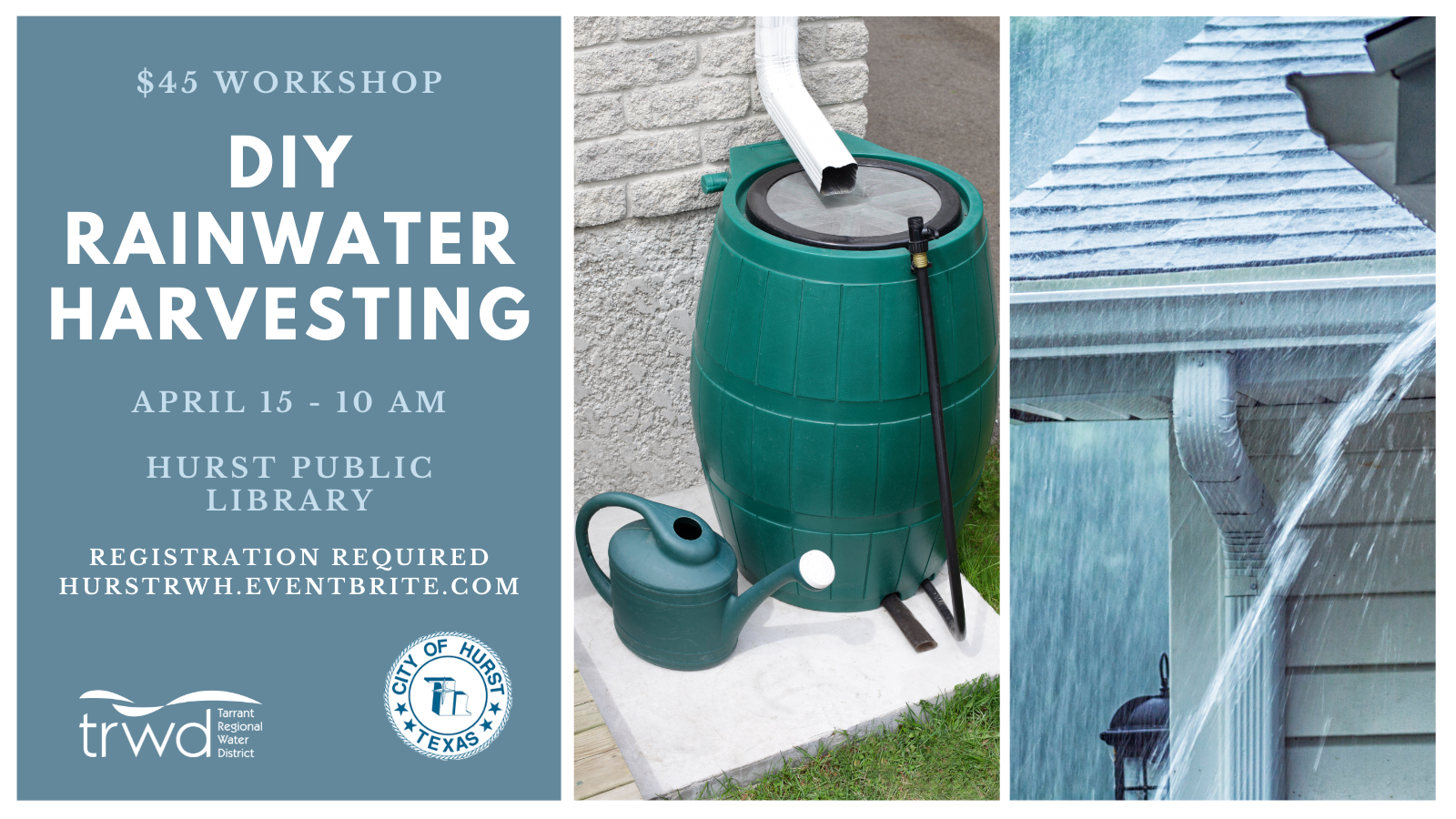 Capture water while it is raining this spring to use on your landscape later!
Join our workshop to learn how, then build your own rain barrel to take home!
Register here: https://hurstRWH.eventbrite.com
Rainwater harvesting is great for North Texas because you can keep some of the rain we get during the spring and fall to use during our hot and dry summers. Even a small roof area can produce a usable amount of water during an average rainfall. From huge cisterns to small DIY barrels, capturing rainwater can be done by anyone. Attend this workshop to learn the ins and outs of rainwater harvesting and purchase a discounted barrel to take home!
Learn about:
• How much water your roof will produce in a year
• Where to put your rain barrel to capture the most water
• How to install a barrel
• How to hook up and use your new water source
• How to build your own 50 gallon rain barrel with just a few supplies from the hardware store
This Workshop is for Hurst, Texas Residents Only.
This workshop is in-person and includes a class about rainwater harvesting basics and a demonstration on how to build a barrel. After the class portion, you will get to build their own rain barrel to take home. This is an educational opportunity and class attendance is required to get a barrel.
Registration is required for attendance. More than one person from your household can come to the workshop with the purchase of one barrel/ticket, but only one barrel/ticket per household please.
Rain barrel information: These rain barrels are discounted from $70 to $45. Barrels are 50 gallons and made from previously used food safe storage containers. The barrels will vary in color and will probably be blue but could also be white or black. You do not get to choose your barrel color. The barrels have been prepped by the Tarrant County Master Gardeners in the same fashion as demonstrated in the workshop. Approximate dimensions are 35 inches tall by 124 inches diameter.
One barrel per household. The address you register with must be located in Hurst, Texas to be eligible to purchase a barrel. Any orders that do not comply with restrictions may be cancelled at TRWD's discretion.
If you register and do not come to the class, you will NOT be issued a refund and you will NOT be able to pick up your barrel. Your barrel will be donated to a local gardening project. If you find you cannot attend the class, cancel your ticket, and request a refund BEFORE the class. You will be refunded the ticket price, minus non-refundable Eventbrite processing fees.
The workshop will be taught by Tarrant County Master Gardeners.
This event is brought to you by the City of Hurst and Tarrant Regional Water District. To learn more about TRWD's water conservation efforts and water-saving tips, visit SaveTarrantWater.com. To learn more about TRWD's mission and the work that we do, visit TRWD.com.